1) RICE BLAST: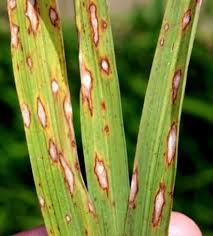 It is the major disease of rice throughout the world and  is caused by a fungal pathogen Pyricularia oryzae. The symptoms appear on the above ground parts like  leaf, leaf sheath, panicle etc. First eye shaped small spot is developed in the leaves which has ash coloured centre, brownish in margin and get yellowish colour in outer parts of margin i.e. yellowish halo. If the infection takes place in neck region, then it becomes weak and panicles are held down known as neck blast. 
MANAGEMENT:
Use fungicides like Hinosan 50 EC 1.5 ml, Bavistin 50 WP 3 gm, or Dithane M45 3 gm per litre of water.
Seed treatment with Bavistin at the rate of 2.5 gm per kg of seed.
2) BROWN SPOT: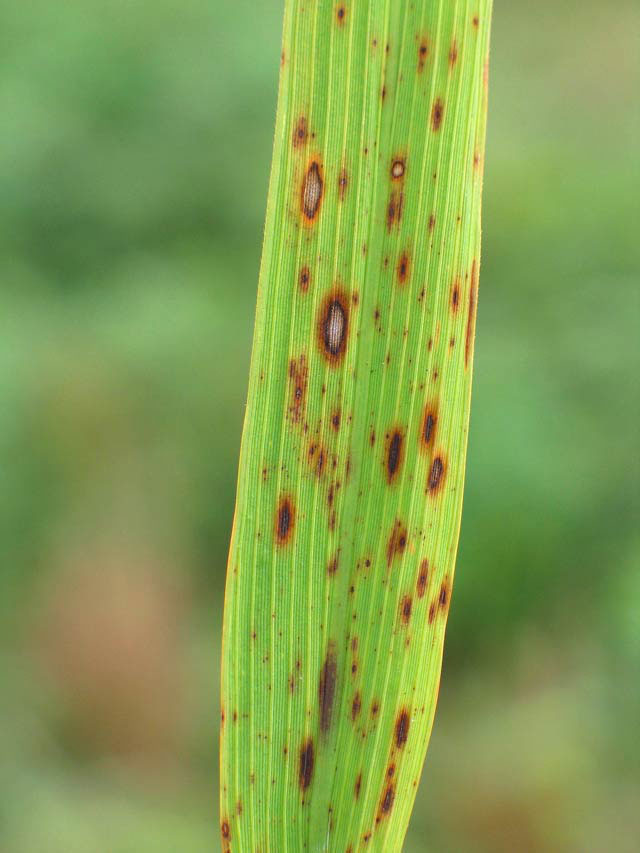 It is caused by fungus Helminthosporium oryzae .
MANAGEMENT:
Nitrogen should not be applied more than the recommended dose
Seed treatment with hot water or Dithane M-45 or Bavistin at the rate of 3gm per kg
Spary fungicides like Dithane M-45 or Bavistin at the rate of 3gm per litre
Biocontrol agents like Trichoderma herzianum, T viridae can be used
3) BACTERIAL LEAF BLIGHT: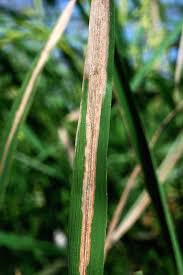 This disease is caused by bacteria Xanthomonas campestris . First the edges of the leaves develop wet specks and they gradually increase in size and become yellow and light brown in colour. 
MANAGEMENT:                                                                                      Controlled irrigation in diseased field and raise seedlings in dry field rather than muddy fields
Use disease free seeds and seedlings
4) FALSE SMUT:
It is caused by Fungus Ustilaginoidea virens
MANAGEMENT: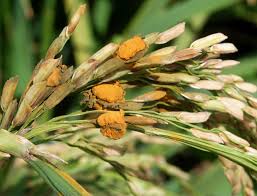 Seed treatment with Mercuric Chloride (HgCl2) to eliminate seed borne inoculum.
Rouging of affected panicles and use of balanced fertilizers and follow crop rotation